Amazon Payments

Amazon Payments For Buying and Selling
UPDATE: Amazon Payments is NOT Recommended
UniSquare has worked hard on trying to provide it's buyers and sellers with additional payment transaction services. After doing research, we found that Amazon Payments would be a great service for our buyers and sellers to use in order to facilitate payments. One of their main selling points for developers promotes: "Marketplace payments: facilitates multi-payment needs between buyers and sellers in a marketplace".
Amazon picking on the little guy
After 2-3 months of development and testing, we launched Amazon Payments as a payment method for sellers to use when listing items for sale on UniSquare. After about a month of live use, Amazon wrote UniSquare an email out of the blue, stating that we broke their terms and conditions because Amazon Payments is not allowed to be used on "Online Auction and Internet Mall" type websites (which is what UniSquare is). A screenshot of this letter is shown below: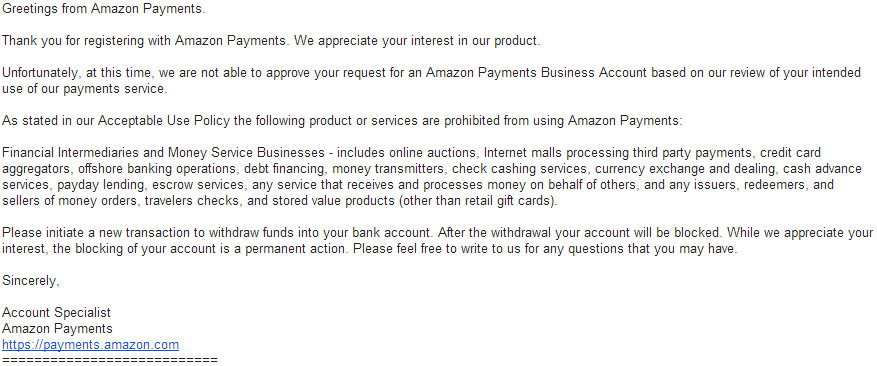 This letter from Amazon contradicts Amazon Payment's very own misleading selling point for marketplace payments, which was the reason we decided to integrate Amazon Payments into the UniSquare marketplace: "Marketplace payments: facilitates multi-payment needs between buyers and sellers in a marketplace". Their own promotion of intended uses for Amazon Paymnts, encourages the breaking of their own "terms and conditions" and may even be illegal on their part. Their promotion encourages marketplaces like UniSquare to spend time and resources developing and integrating Amazon Payments into their marketplaces, only to have their accounts banned shortly after development is complete. Most likely, this is just a case of Amazon picking on the little guy (UniSquare), who "competes" with their own multi-national, billion-dollar marketplace, and so this is likely the real reason behind Amazon Payment's ban of their services being used on UniSquare.
We are still keeping in contact with Amazon to hopefully clear up this issue and to still be able to provide this payment method for buyers and sellers who would like to use it. A representative at Amazon informed us that they would look into this and come back with an answer within 2-3 days... It has been weeks (and now months) with no response on the matter. We are still willing to accept Amazon Payments on UniSquare. Although the lack of certainty that our developer scripts on UniSquare will be banned again in the future, out of the blue, is unprofessional business practice on Amazon's part.
We do not know if Amazon Payments will ban individual buyer/seller accounts in the same, unprofessional way. We do know that more work needs to be done with Amazon Payments and they need to do more thinking and go back to the drawing board before finalizing their strategy. We do not consider this service ready, nor stable enough for live, long-term production and business use with buyers and sellers. However, we have never experienced any issues like this with PayPal. For now, PayPal is the preferred and professional online payment processor of choice on UniSquare.