UniSquare Item ID Number:
1097822
Standardized Rhodiola Rosea powder based on personal experience helps with Fatigue Mental Stress Physical Stress Poor Blood Circulation Leg Cramps Mild anxiety and Depression.
Rhodiola Rosea is used and researched in Russia. In Sweden, it is designated as an anti-fatigue agent and in Denmark it is registered as a botanical drug.
Dissolves easy on any liquid. We love it with soda.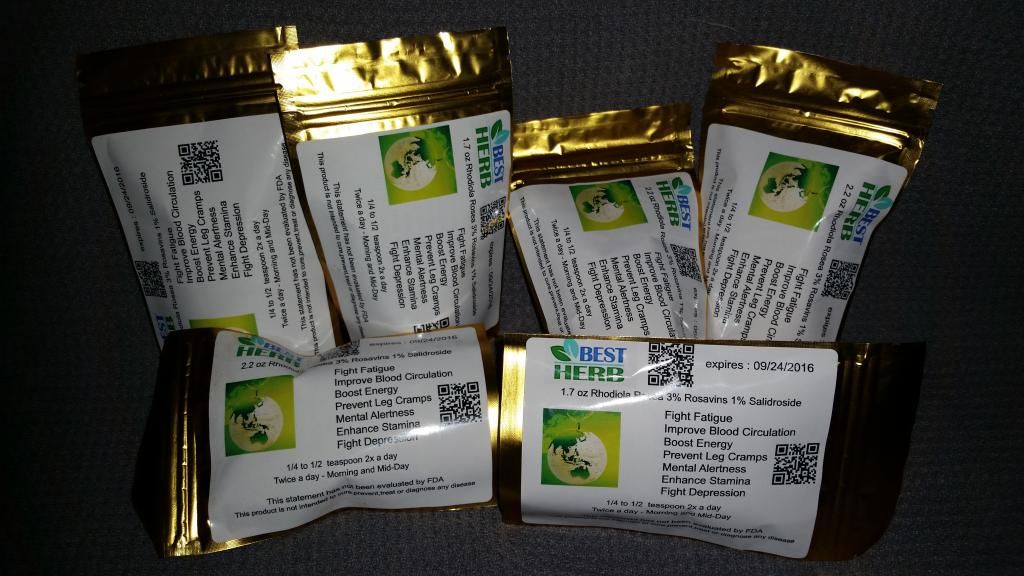 About our Supplier
– BEST HERBS INC With its corporate plant located in China, BestHerb US is a TRG branch company based in the United States, providing top quality organic herbal extract products with expedited delivery to their customers all over the world. BestHerb US is the gateway in the herbal importing world. As a result, their products require specific quality control measures and production procedures to meet the highest standards. They service North and South America; standing strong with fast and accurate services, extensive product line.
Best Herbs INC
Because of their location in what is considered to be the "cradle of the Chinese herb", between Qinling and Daba Mountains, their products come from non-polluted and fresh soils. Moreover, it is nature itself that provides the best and purest quality ingredients of the supplement and dietary industries. That being, as a competitive leader in the natural herbal industry they delicately choose fresh, precious ingredients coming from green earth. State of the art facilities Over 10 years experience as top leaders in the industry Meticulous international quality standards and regulations Committing to their customers requirements and services Strong quality management system certified to ISO 9001
Packaging :

1.7 of Rhodiola Rosea Powder will come packaged in a heat sealed but resealable Golden Foil Mylar Package.keeps aroma fresh, the powder fresh.
We don't think it is a good way to package in plastic bag like other sellers are doing.
Administering Rhodiola
Those who take Rhodiola Rosea at a low daily dose for a period of weeks or months, is better to adopt a course of treatment that involves alternating intervals of consumption and abstinence. For example, 3 weeks of rhodiola followed by 1 week without.

Recommended Dose : 1/4 to 1/2 teaspoon 2 times a day morning and mid-day. To most people, 1/4 teaspoon twice a day is enough.We found out that Ice tea or any drink with some sweetener on it works well. 1/4 teaspoon is good for starters.
This powder has a bitter tasted be prepared for that.
" Price is what you pay, Quality is what you get." - iSmart Innovations
Below is a picture of their Facilities in California