Power Of Thai Amulets
Thai people believe Buddha is good everything will unexpectedly happen to you. Amulets will bring prosperity and ensure success in life, good wealth, luck, love, charm, business, life protection, and success. While also, can prevent the ghosts, all black magic, rituals, superstition, avoid from danger because all Thai amulets come in a variety of different materials such as limestone, plaster, wood, glass, metal, precious stone, gold and silver and even a greater variety of shapes and sizes. Some may contain the ash from bone, incenses burner or old temple buildings, or the dirt from specific graveyards, while others may hold  pollen, clay, baked clay, herbs, and yet others may contain monk's ropes, hair, saliva or drops of blood from a famous monk, the later is believed to add further protectoral power to the amulet for worship.
Real Experience from those who hang Thai amulet
10 August 2019 at 12.36 am.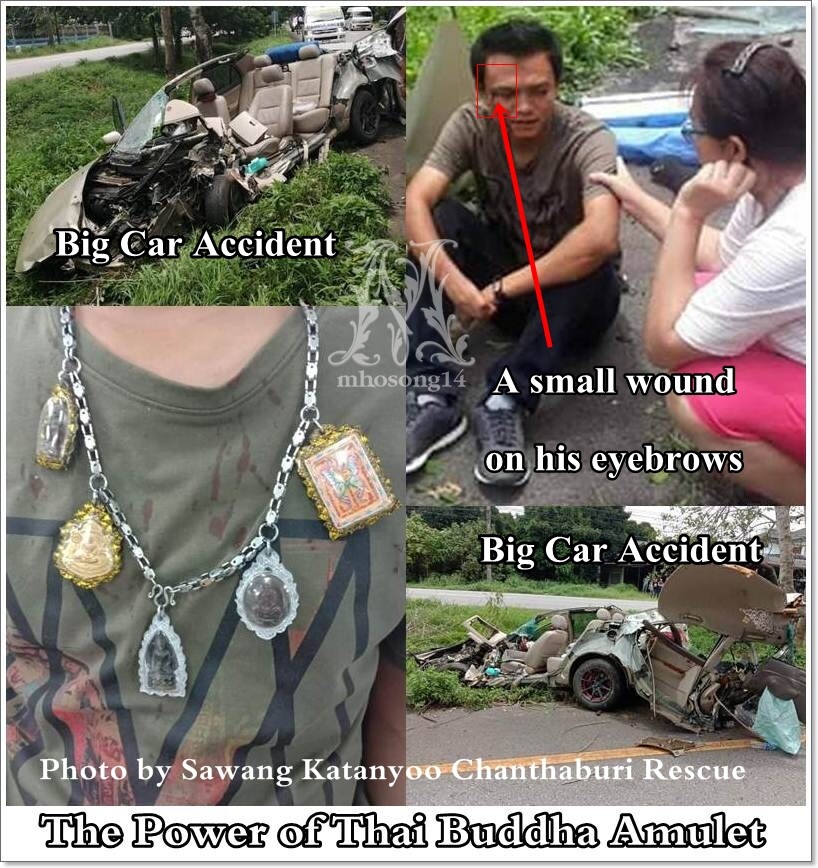 There was a big car accident.
The 32-year man driving a car brand Toyota Corolla Altis, gold color.
He returned from errands at Soi Dao to return home at Khlung District.
He is driving off the curve, his car hit the tree, Sukhumvit Road, Kom Bang Subdistrict, Mueang District, Chanthaburi.
The car is very damaged, the rescue officers saw and hardly believe in the eyes. This man was a small wound on his eyebrows. His name is Mr. Aungkarn Jitrakulnee, age 32, is a native of Khlung.
He hung Thai Buddha amulets and believed that because of the Thai Buddha Amulet's help he survived from this accident.
"Photo and News by Sawang Kotanyu Chanthaburi"