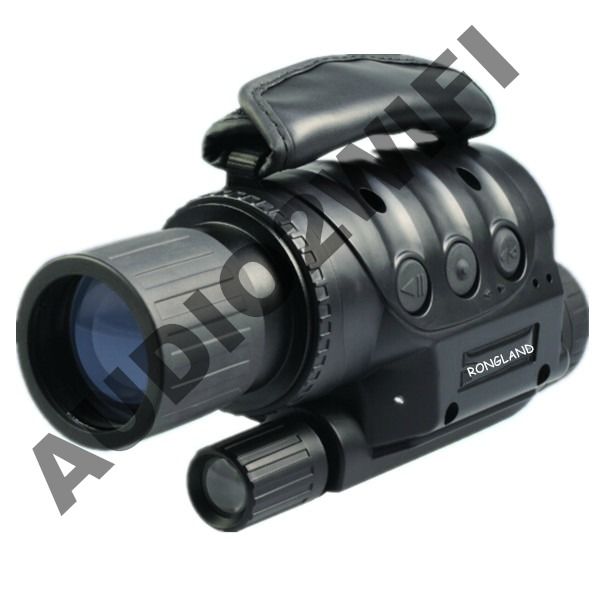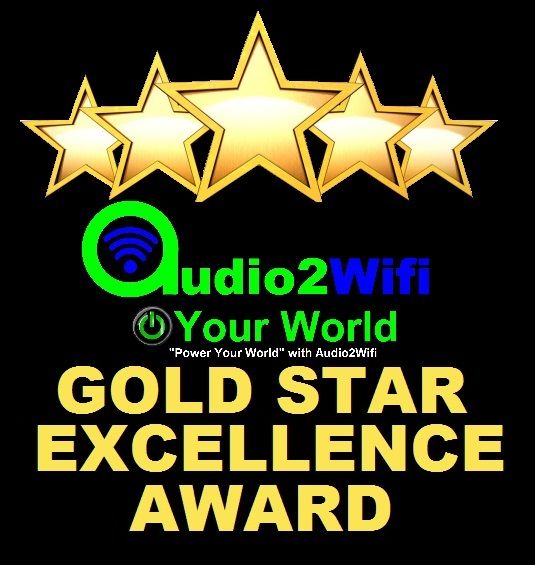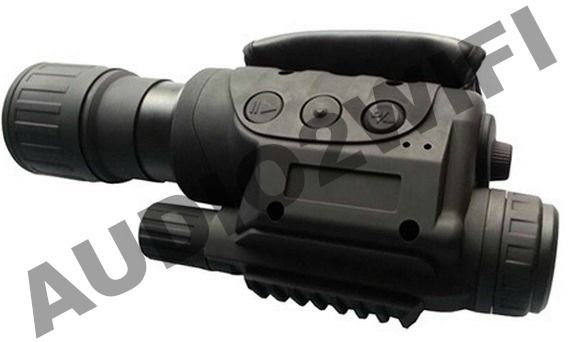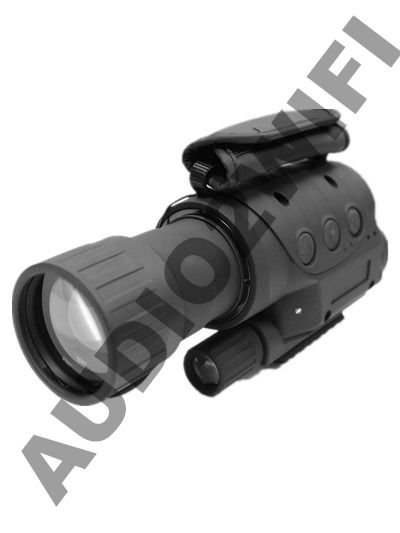 Click here to See our other EXCITING Night Vision Products!
WE ACCEPT BEST OFFERS ON THIS ITEM!
So GO AHEAD and make us an Offer
 we cant refuse! :-)
SEE MORE PICTURES of the Rugged RG-77 BELOW!
Description:
      The Rongland RG-77 GEN 1+ Night Vision Monocular is an INCREDIBLE, portable hand held night vision COLOR Daytime RECORDING device or NVRD. It Features Daytime HD Color Recording and Photography and Nightime CCD Night Vision Recording and photography! 
By Utilizing the high 6X magnifaction and the SONY World Class CCD, you get Excellent advanced GEN 2 QUALITY at Gen1+ pricing! This Sony CCD System Features EXTREMELY Bright and Sharp Images. 
The Rongland RG-77 is an example of the FUTURE in digital technologies in observation optics, but available NOW!
 Currently The RG-77 is the ultimate Night Vision Digital Recording Device and AUDIO2WIFI has given it, it's 5 STAR GOLD EXCELLENCE AWARD for Quality, Features and Price!  
The Rongland RG-77 features an impressive with 6x magnification, and large viewing range up to 700 metres (with the 7X lens sold seperatly). This large Viewing range is due to a highly sensitive Sony CCD (array) and new SUM LIGHT(tm) software technology employed in the device. This gives you the option of a Crisp and Clear black and white view for when some light is available, and traditional green illumination for almost to Completely Dark conditions. 
The Rongland RG-77 can compete with similar products in the Gen 2 catagory because of its image Sharpness, Clarity and Brightness. The image transmitted to the monochrome LCD display is crisp and sharp on the Entire field of view. The device is able to capture effectively the light flux from a wide wave range in conditions from Completely dark to natural night illumination. 
HERE'S THE BEST PART......IF YOU SKIP THE REST,  READ THIS!.........................
The built-in video output allows transferring of the image to a monitor or a TV set which facilitates long-time stationary viewing, and video recording to external recording devices. TAKES Daytime COLOR PHOTOS and HD VIDEO and CCD Night time VIDEOS and PHOTOS and you can remove your sd card, or simply Plug in the supplied Cord and watch it on an external monitor!
All models feature rugged, weather-resistant housings and integrated accessory rails, letting you easily add a light to dramatically increase viewing range in the day & night use. Use it by itself, Or with your favorite Rifle! 
 By Utilizing the high 6X magnifaction and the SONY World Class CCD, you get Excellent advanced GEN 2 QUALITY at Gen1+ pricing! This Sony CCD System Features EXTREMELY Bright and Sharp Images. 
Designed for versatility and ruggedness, this NVRD (Night Vision RECORDING Device) unit is ideal for security, surveillance, paintball, hunting, boating, and hiking or just watching the wildlife. 
 The RG-77 features an Automatic Bright Light Shutoff system that turns the unit off when exposed to an intense light source. This protects the unit from damage and is a Unique feature in its class normally found in higher end, Gen2 and Gen3 units. 
The RG-77 has fully Multi-coated optics which decrease glare, and increase light transmission.  
This item is BRAND NEW, NOT old stock or re-manufactured! You will see that we have the BEST Night Vision Products at the BEST Prices, with DHL SHIPPING WORLD WIDE* to most countries!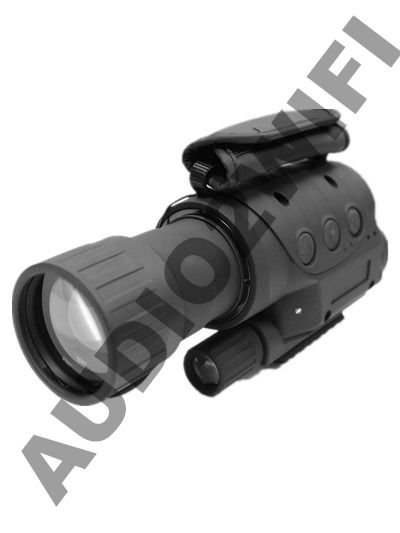 KEY FEATURES:
 Higher resolution than Gen.1+.
 Extra long distance viewing.
 With Sony CCD
 effective 300-700 meters.
 Brightness adjustment control.
 Auto-on/off IR under certain light conditions
 Stealth IR operation with invisible.
 powerful dual IR illuminators.
 Enhanced multi-coated optics.
 Taking photo
 Direct video output capability.
 Interget memory card
 Car chargeable adaptor
 Built-in quarter inch tripod socket.
 Rugged Rubber Armor construction.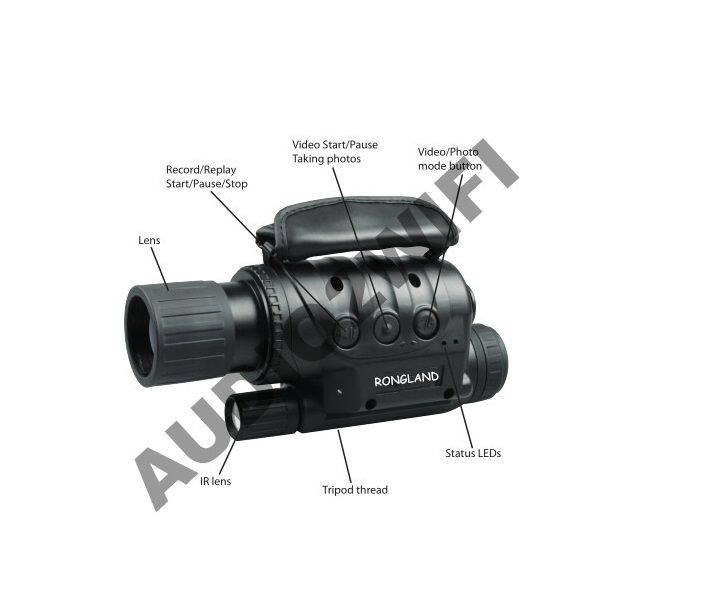 SPECS:
 1 - Model# RG-77                                  6*50
2 - Magnification,x                                 6x 
3 -  Detection range,m                        320 
4 - IR-Power,mW                                 0.5 
5 -  IR Wavelengh,nm (LED)             850 
6 - IR effective distance, m          80-100
7 - Field of view                                 12° 
8 - Close focus distance,m               1.5
9 - Eye relief,mm                               12°
10 - Lens, Ø                                  50mm 
11 - Diopter adjustment             -4 ~ +4 
12 - Sensor: CCD -            CCD (1.3MP)
   13 - Image and video res. - VGA 752*582
                               14 - Memory: MicroSD/SDHC memory cards up to 16 GB
15 - Video out            - Supplied Cord 
      16 - Dimensions: approx mm 198×81×61 
17 - Weight: approx.gr  -             460 
                               18 - 4 GB micro SD memory card with SD card adaptor
  19 - Battery type -                 CR123 *3
 20 - Video cable -                       YES 
21 -  Pouch -                              YES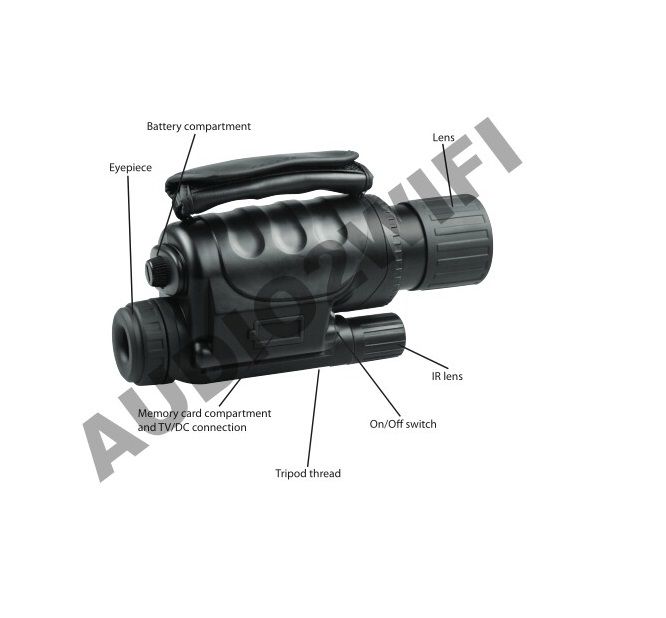 RONGLAND
RG-77 NIGHT VISION RECORDING DEVICE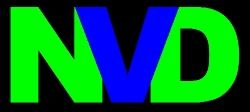 SPECS:
INTERNAL VIDEO 
RECORDING and PHOTOS!
Generation - Gen 1+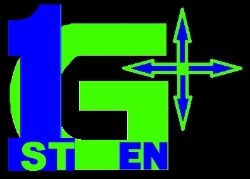 Magnifaction - 6X   
Power supply - CR123 x3
Estimated battery life without IR, hour - Up to 60 hrs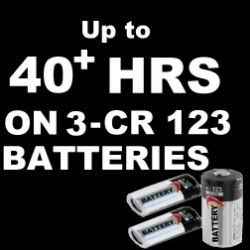 IP standard of water resistance - meets IPX4 Rating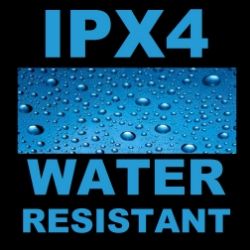 Rubber Body Armor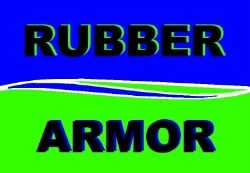 Built In DUAL Infrared Illuminator's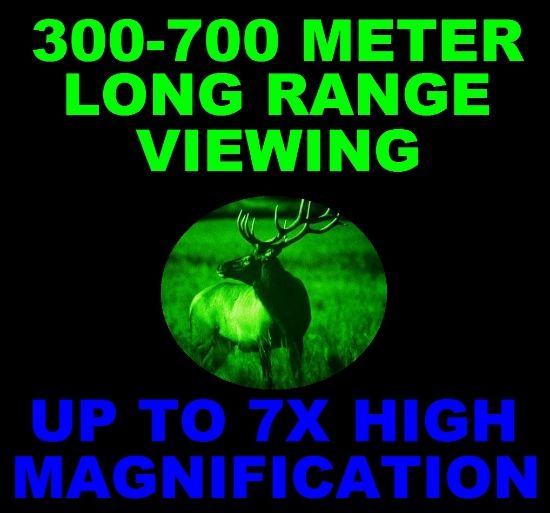 Available in 4x Lens (less expensive) Standard 6x lens (this auction) or a 7X lens sold separately. 
NOTE:  CUSTOMER SERVICE IS ALWAYS HERE TO HELP!
We are Happy :-) to answer any questions that you might have. Please email us through eBay and we will do our best to get back to you as soon as possible, Usually in LESS than 12-24 hours! 
 YOUR BUSINESS IS VERY IMPORTANT TO US!
 INS. IS included in your shipping up to 100.00 US, and that coverage is free from DHL. Over the 100.00 US can be added if you require it based on what you're spending.
  FREE SHIPPING TO THE US, UK, Australia, Austria, Belgium, Canada, France, Italy, Germany, Netherlands, New Zealand, Spain, Switzerland, Most of Asia and Over 100+ other countries.  Please email us to see if your country is included!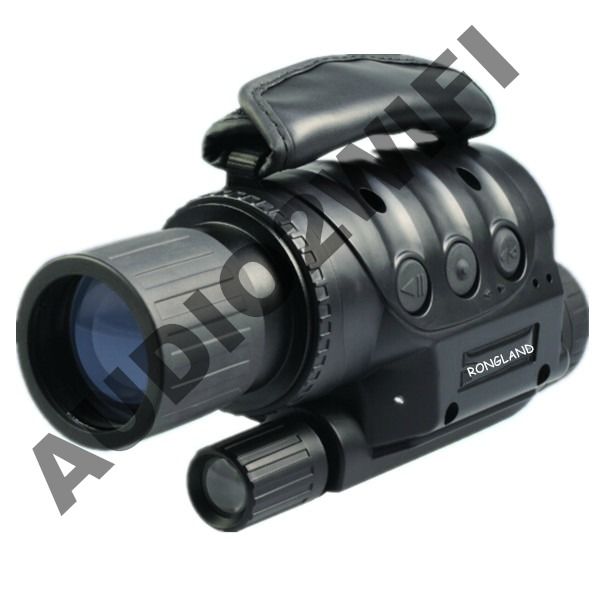 What's included in your package
 Package Contents:
 RONGLAND RG-77
 Protective carrying case
 Video cable
 Car and wall AC Adapter
 Cleaning cloth
 Instruction manual
 Warranty card 2 year
By ordering an item from Audio2Wifi,
You agree that you have read and agreed to the following Terms and Conditions listed in the LINKS below: 
Payment: 

 

 

Full payment is required within 24 hrs after you have won the item, or clicked on the buy it now through eBay. We work Monday through Friday 10am-8pm (Asian Time).  There is no Payment Cutoff time but our manufactures only work from 8 AM to 6 PM, Monday through Friday. If you have paid for your auction and have not received your tracking number,  it is because we are waiting for the Manufacture to open during those business hours. After payment is received, your item will be shipped the 

VERY NEXT DAY! 

Payments for auctions on Saturday or Sunday will be shipped on the next possible Business day. We 

ONLY 

ship to a 

VERIFIED 

PayPal

 

account address, Unless another payment method is used. WE

 

PREFER PAYPAL

 

for all Payments.

 
Shipping Details:

 




WE SHIP TO THE

 

USA, UK, Most of Asia and 

OVER 100 OTHER COUNTRIES

 

FOR FREE!

  

Want to know if your country is included?  Just email us!  Shipping is via DHL 5-7 day Delivery!  WE PROVIDE YOU WITH FULL DHL TRACKING NUMBERS so that you can follow your package straight to your door!  

You are responsible for any taxes or port/duty charges into your country.

 If you do not know what these charges are, please find out by asking your customs or local Government office Before you purchase.
INS. is recommended but not required. The First 100.00us INS. of your shipment is included FREE by DHL. You decide if any more is necessary or required, based on the total your spending.  For Full Details See 

OUR

 Terms and Conditions link below.  
To read DHL's Information about Insurance, Click Here.
To read Audio2Wifi's TERMS & CONDITIONS about PAYMENT, SHIPPING and INS. Click Here.
The Audio2Wifi 100%  Satisfaction Guarantee
Audio2wifi Guarantees that all merchandise is shipped from the Manufacture in BRAND NEW condition.
If you receive a defective or broken item PLEASE Notify us of the defect within 24 hours of receiving the item.
The defective item must be then returned back to the Manufacture within 7 days. After the manufacture receives your item, they will repair or replace your item and return it to you in a very timely manner!
To read our full Return Policy, click here.