Thotsakan Giant Gold Mask khon Thai Handmade
Ramayana Headdress Crown Dancer Costume
 Art Home & Hotel Decor/ Collection Collectible

Free Shipping with tracking number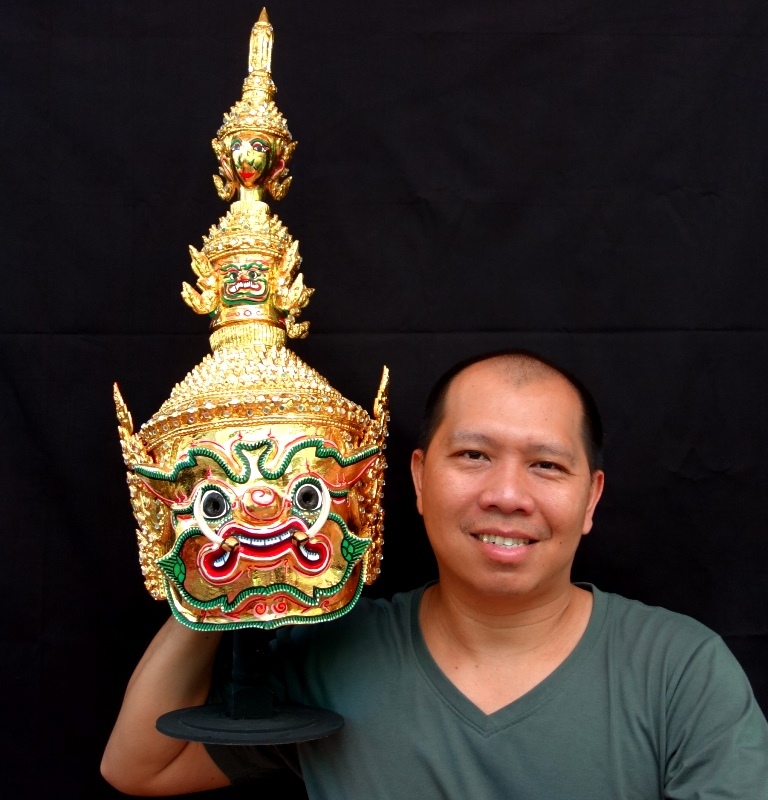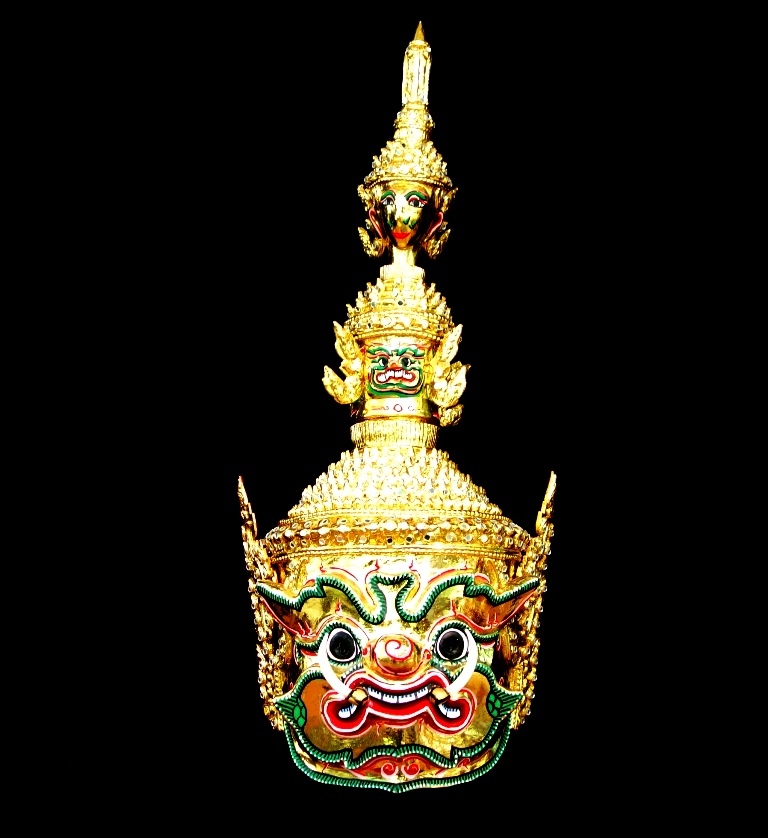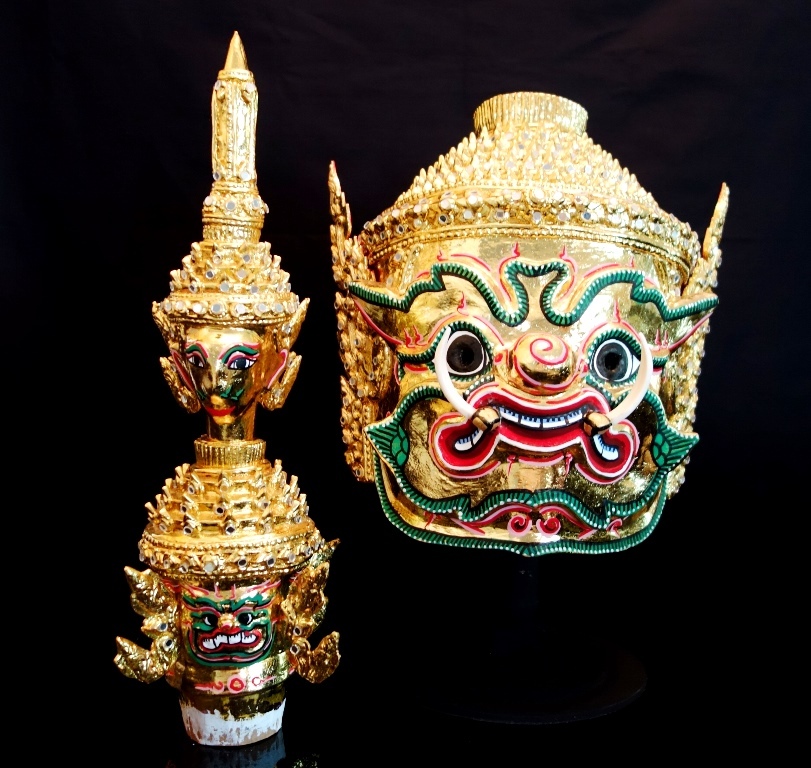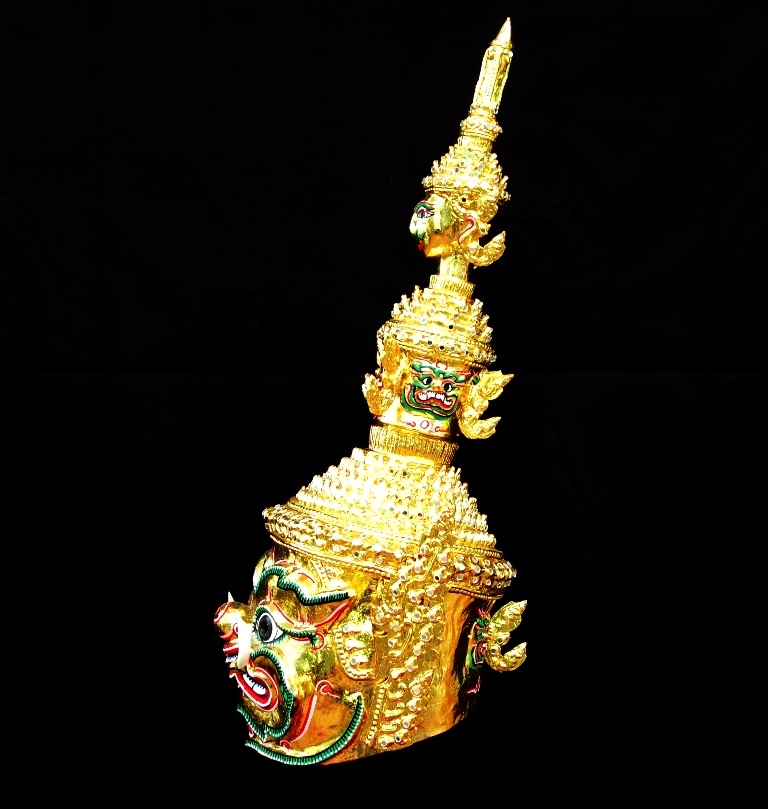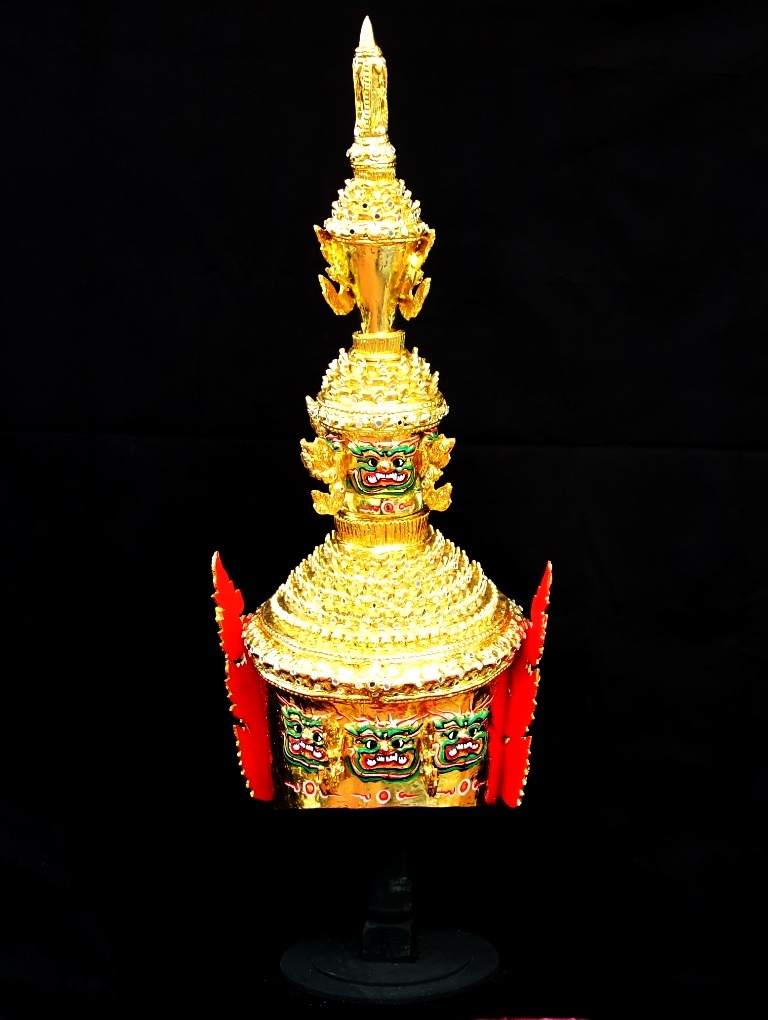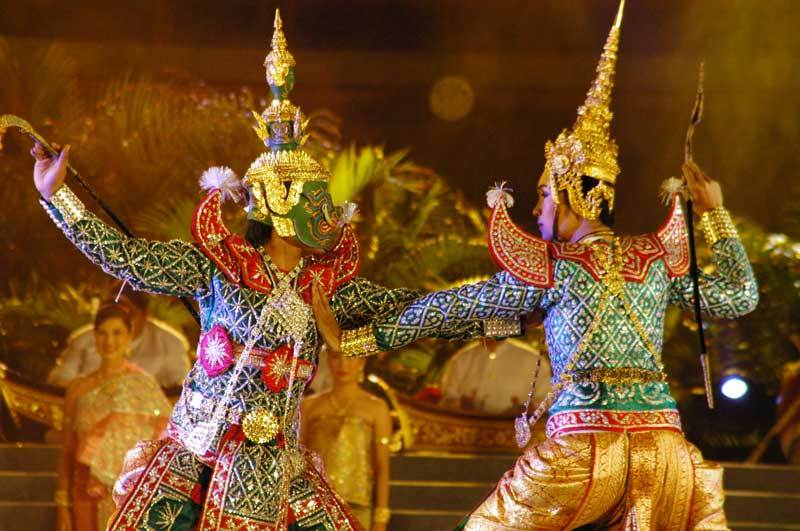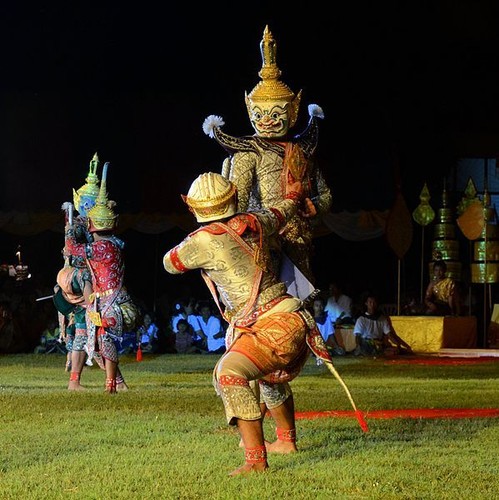 https://www.youtube.com/watch?v=pVLtHsEf4ek
Khon (
Thai
:
โขน
) is a genre of dance drama from Thailand.
It is traditionally performed solely in the royal court, by men in masks accompanied by narrators
and a traditional
piphat
ensemble
Description
Condition : New without tag
Material    : Paper and cement / Gold Coat

Size          :  L  Size

Color         : As Picture

Quantity    : 1 Pieces + Stand

Ravana temples and temples related with Ravana
There are several temples where Ravana is worshipped.[15][16][17] Ravana is considered most revered devotee of Lord Shiva.

The images of Ravana are seen associated with lord Shiva at some places.
There is a huge Shivalinga in Kakinada, Andhra Pradesh, supposedly installed by Ravana himself, with a statue of Ravana near by.

Both Shivalinga and Ravana are worshiped by the fishermen community there.
Thousands of Kanyakubja Brahmins of the village Ravangram of Netaran, in the Vidisha District of Madhya Pradesh,

perform daily puja (worship) in the Ravan temple and offer naivedyam / bhog (a ritual of sacrifice to the Gods).

Centuries ago King Shiv Shankar built a Ravana temple at Kanpur, Uttar Pradesh.

The Ravana temple is opened once in a year, on Dashehra Day, to perform puja for the welfare of Ravana.

A Jain temple in Alwar, Rajasthan is called the Ravan Parsvanath Temple.
The legend says that Ravana used to worship Parsvanath daily. While Ravana was on tour to Alwar he realised that

he forgot to bring the image of Parsvanath. Mandodari, Ravana's wife, is said to have made an image of Parsvanath immediately.
And hence the Ravan Parsvanath temple at Alwar.[18]Ravana is said to have married Princess Mandodari at a place Mandsaur in Madhya Pradesh.

This is so because in Mandsaur, Ravana is worshiped.
At the altar can also be found the images of Saptamatri (Seven Mothers) flanked by Ganesha and Veerabhadra.

The Saptamatri images are said to precede the time of the Pratihara Dynasty (founded in the 6th century AD)

and are in fact reminiscent of the images of seven female deities of Harappa – the oldest civilisation in India.
In the nearby stepwell, a stone bears a script that resembles the Harappan script.
The Dave Brahmins of Mudgal Gotra, Jodhpur/Mandor who were originally from Gujarat, claim to be the descendants of Ravana.

The say that since time immemorial they are performing the shraddh (death anniversary) of Ravana on Dashehra Day every year.

They offer pind daan and take a bath after that ritual. They recently erected a Ravan temple in Jodhpur, where daily puja is performed.
Koneswaram temple, Dakshina-then Kailasam is a classical-medieval Hindu temple complex in Trincomalee,

a Hindu religious pilgrimage centre in Eastern Province, Sri Lanka. This temples is associated with Ravana and his mother.

They had worshiped Shiva at the shrine.Kanniya Hot water spring in Sri Lanka has the history from the King Ravana era.
It says that King Ravana stuck the earth with his sward in several spots for his mother's funeral event and several fountains were started on those places.

The water was hot and it is not being as a tourist attraction in Sri Lanka.

Murudeshwara temple, dedicated to Lord Shiva, lies in the holy beach town in the Bhatkal Taluk of Uttara Kannada district in the state of Karnataka,India.
It is situated between the Honnavar and Bhatkal town (about 12 km) and it lies on the coast of the Arabian Sea.
 The significance of this holy town dates to the time of Ramayana. Ravana wanted to attain immortality by penance dedicated to the Atmalinga
(the divine Lingam of Shiva procures invincibility and immortality to the Hindu Gods). Lord Shiva appeared before Ravana and asked him what he wanted. 
Ravana requests the Atmalinga as his boon. Lord Shiva agreed to give him the boon with a condition that it should never be placed on the ground.
It is believed that the Atmalinga was ever placed on the ground, all the powers would return to Lord Shiva again.
Having obtained his boon, Ravana started back on his journey to Lanka. Sage Narada, realised that with the Atmalinga,
Ravana may obtain immortality and create havoc on earth, approached Lord Ganesh to help him.
 As Ravana was nearing Gokarna, Lord Vishnu blocked the sun to make it appear as dusk.
Ravana had to perform his evening rituals but was worried because with the Atmalinga in his hands, he would not be able to do his rituals.
Lord Ganesh, disguised as a Brahmin boy approached Ravana. He requested him to hold the Atmalinga until he performed his pooja,
and told him not to place it on the ground. Ganesh struck a deal with him saying that he would call Ravana thrice,
and if Ravana did not return within that time, he would place the Atmalinga on the ground.
 As predicted, before Ravana could return after completing his rituals, Ganesh had already placed the Atmalinga on the ground.
Vishnu then removed his illusion and it was daylight again. Ravana got really angry that he was tricked again and tried to uproot the Atmalinga and destroy it.
 but could not. In a fit of rage he threw the case covering it to a place called Sajjeshwara, 23 miles away.
Then he threw the lid of the case to a place called Guneshwara (now Gunavanthe) and Dhareshwara, 10–12 miles away. 
Finally, he threw the cloth covering the Atmalinga to a place called Mrideshwara in Kanduka-Giri (Kanduka Hill).
Mrideshwara has been renamed to Murudeshwara
Payment Policy
 I accept ONLY PayPal for payment.
Shipping  Policy
Free Shipping Handling WORLDWIDE.

The package will be shipped directly from Thailand via Standard package Airmail,

With tracking number , and it will take about 11-23 business days.Canada 4-6 weeks.

Return Policy
100% Satisfaction Guarantee. If you are not satisfied with the product you purchased for any reason,

please contact us for a return instruction within 30 days.

Shipping Handling costs are not refundable. Return shipping cost will be paid by buyer.
+++ Please contact us by eBay message ONLY +++
Thank you and have a nice day