Item Details
UniSquare Item ID:
2002267
Item Decription
BOTAYA HERB HERBAL SET CREAM+SOAP CURE ACNE WHITENING FACE TREATMENT
"Our Product Shipped By Thailandpost Register with Tracking No."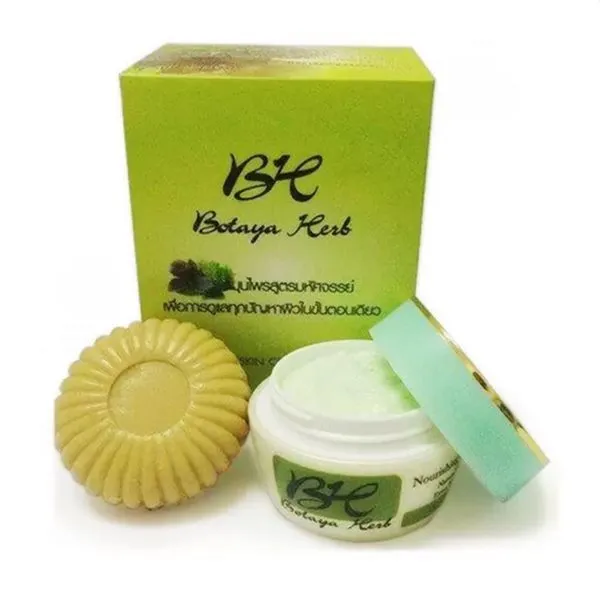 Botaya herb 1 set contain:
1.Nourishing Skin Cream cream, herbal cure all problems on step one: acne blemish freckles blemishes.
Wrinkles
Dull facial pore width.
An important component of the Herb Botaya:
1.Emblica Extract:
skin clear of blemishes, skin radiance, complete of all the substance reduces the skin from sun damage and free radicals slow degeneration of cells.
Against the bacteria that causes acne
Reduction of inflammatory acne collapse more quickly.
2.Pueraria Extract
contains ingredients called Phytoestrogen:
Radiant, soft moist skin.
Reduce wrinkles in the household
3.Tanaka Extract:
resist degeneration of cells.
Prevent acne, can destroy the bacteria and reduce itching, blemishes and reduce blemishes, reduces the creation of melanin pigment.
Prevent the destruction of the UV rays.
4.Centella Asiatica Extract:
Body wash.
Dark spots of skin, redness, swelling, bruising, scars and reduce Arriaga Stimulate Collagen and Elastin in the skin is essential.
The surface layer has excellent Cheloid.
Skin elasticity and tighten removing wrinkles.
More important is the effect of the Anti-oxidant vitamin E up to five times higher than
5.Zingiber Montanum Extract:
inflammation of the skin
6.Tiliacora Triandra Diels Extract:
balance the skin
7.Artocarpus Lakoocha Roxb Extract:
Inhibiting.
The enzyme tyrosinase
Reduce and prevent fogging
8.Garcinia Mangostana Linn Extract:
bacteria that cause acne, anti-infectious inflammatory
9.Algae Extract:
skin firming and anti-fog
Siricin Silk Power: Because there are up to 16 amino acids. 18 types of antioxidants.
Help heal the wounds to heal faster.
Some microorganisms can be eliminated
The cause of skin disease
It also helps to retain water in the skin.
Scouring the cell
And prolong cell.
10.Royal Jelly:
restoring cells to remain youthful.
Protect your skin from chemical reactions inside.
And external body
Stimulate collagen.
11.India Herbal Extract:
contains seven types of herbs that are effective in maintaining skin strength and stimulate skin cells to repair the damage from pollution.
It has the effect of stimulating the scars healed quickly.
Use in the morning and evening
.
* * * results depending on the individual's skin * * *
Payment is Accepted by Paypal only. Paypal is the Safest mode of Payment on eBay .
We ship anywhere in world within a short time on high priority basis 
         We will make you sure that you will receive the product in Good Condition
Product is Shipped By Thailand Post
Registered Airmail 
You will get Tracking No After Ship Product
Please See More Other Items & Thank You for Visited in Value4paid Store ~ Good Luck~