Phra Rod is the oldest amulet in Thailand, found at Wat Mahawan, Lampoon Province in Northern Thailand. Created from old clay and other sacred materials with a mixed Buddhism style between Davarawadi and Sri Vichai in the middle age of Haripoonchai period (12th century) B.E.1223 (A.D. 680) date back over 1,300 years. 
There are many memorandums of Haripoonchai City or Lampoon nowadays about the making of Phra Rod mentioned that the city was completely found by a group of hermits (Sudheva Lersi and Sukatakata Lersi) purely by the power of magic.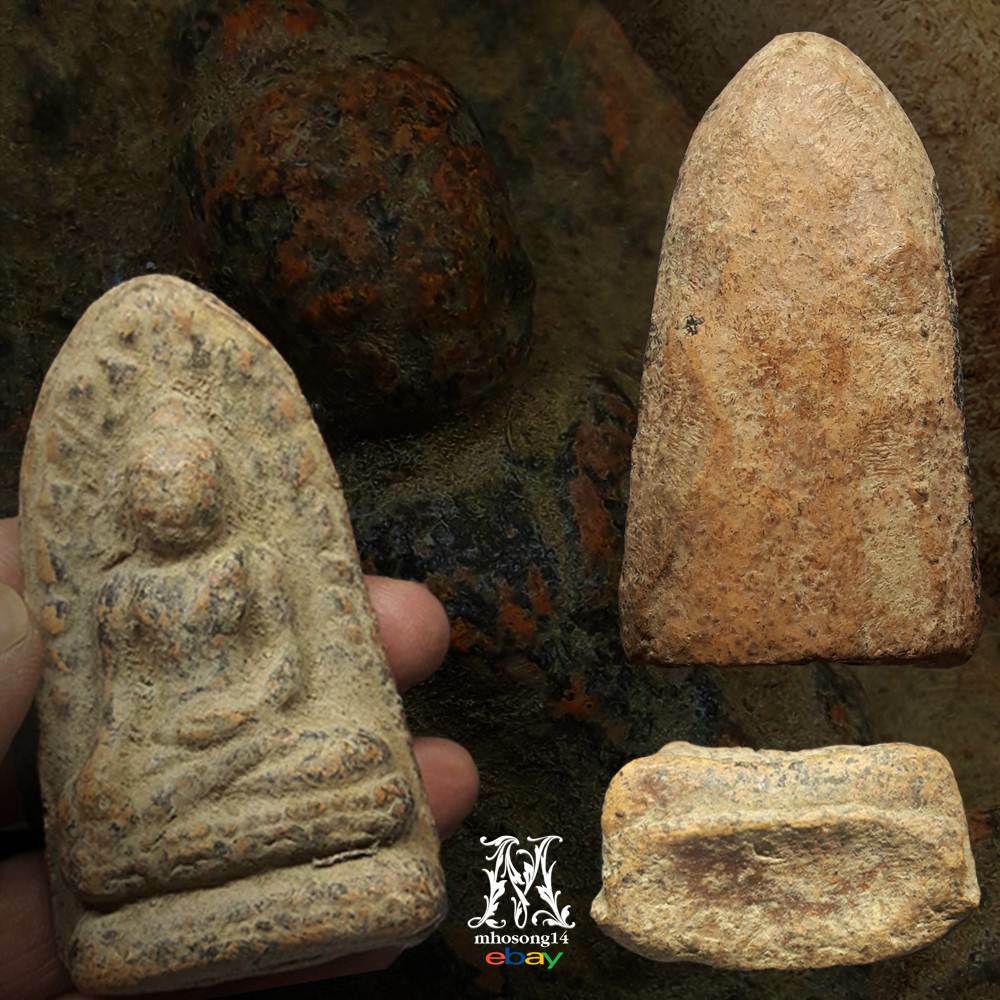 Normally, Phra rod amulet is a mini size is 1x2.5 cm. but this amulet is a very big size is 4x8 cm. This is very hard to find, I got this amulet from my grandfather. He told me since I'm a boy, he got this amulet from Buddhist monk since he is young and the Buddhist monk told him this is very hard to find and kept in good condition because of this amulet powerful to good everything. Now, my family is O.K. It's very happy and I want to share the great amulet for the dear customer for good things such as my family. My family has great amulets are a lot of and I hope you did not miss a great time such as this.
Please see all Gallery photos to perfect, old, beautiful and size.
Due to the light and screen difference, the item's color may be slightly different from the pictures. 
Power Of Thai Amulets
Thai people believe Buddha is good everything will unexpectedly happen to you. Amulets will bring prosperity and ensure success in life, good wealth, luck, love, charm, business, life protection, and good success. While also, can prevent the ghosts, all black magic, rituals, superstition, avoid from danger because all Thai amulets come in a variety of different materials such as limestone, plaster, wood, glass, metal, precious stone, gold and silver and even a greater variety of shapes and sizes. Some may contain the ash from bone, incenses burner or old temple buildings, or the dirt from specific graveyards, while others may hold  pollen, clay, baked clay, herbs, and yet others may contain monk's ropes, hair, saliva or drops of blood from a famous monk, the later is believed to add further protection power to the amulet for worship.


$50 for Worldwide Shipping
We ship with Express Mail Service from Thailand in 2 business days after payment confirmed.
Normally it takes 4-7 business days to reach most countries.
***Please Note***
If you don't want to worship, please don't buy. The returns will not be accepted for this amulet because When you buy and change your mind later, It wastes the opportunity of other people who want this amulet. A damage may happen between the return shipment but We are 100% Guarantee. The shipment from us as a good package because we send the amulets to Worldwide over 10 years and no damage for the shipment.
Any questions, please contact us.
Thanks for looking