Item Details
UniSquare Item ID:
283697
Item Decription

Untitled Document
Fabric Width:44 Inches (1.1 Meters)
 Thread count: 60 x 60 Quality: 92 x 88
quantity of this listing 10 yards
price is $ 52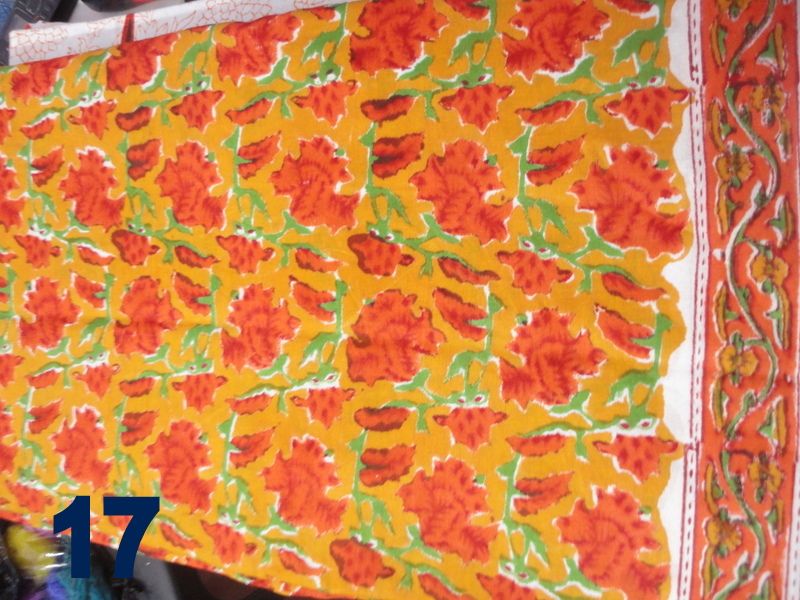 This process, though considered by some to be the most artistic, is the earliest, simplest and slowest of all methods of printing.
In this process, a design is drawn on, or transferred to, a prepared wooden block. A separate block is required for each distinct colour in the design.
A blockcutter carves out the wood around the heavier masses first, leaving the finer and more delicate work until the last so as to avoid any risk of injuring it during the cutting of the coarser parts. When finished, the block presents the appearance of flat relief carving, with the design standing out.
Fine details are very difficult to cut in wood, and, even when successfully cut, wear down very rapidly or break off in printing. They are therefore almost invariably built up in strips of brass or copper, bent to shape and driven edgewise into the flat surface of the block. This method is known as coppering.
To print the design on the fabric, the printer applies colour to the block and presses it firmly and steadily on the cloth, ensuring a good impression by striking it smartly on the back with a wooden mallet. The second impression is made in the same way, the printer taking care to see that it fits exactly to the first, a point which he can make sure of by means of the pins with which the blocks are provided at each corner and which are arranged in such a way that when those at the right side or at the top of the block fall upon those at the left side or the bottom of the previous impression the two printings join up exactly and continue the pattern without a break. Each succeeding impression is made in precisely the same manner until the length of cloth is fully printed. When this is done it is wound over the drying rollers, thus bringing forward a fresh length to be treated similarly.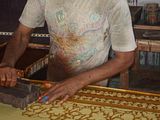 If the pattern contains several colours the cloth is usually first printed throughout with one, then dried, and printed with the second, the same operations being repeated until all the colours are printed.
Block printing by hand is a slow process it is, however, capable of yielding highly artistic results, some of which are unobtainable by any other method.
 WHOLESALE PRICE
10 TO 25 YARDS = $5.2 PER YARDS
25 TO 50 YARDS = $5 PER YARDS WITH SHIPPING
50 TO 75 YARDS = $4.60 PER YARDS WITH SHIPPING
75 TO 100 YARDS = $4 PER YARDS WITH SHIPPING
100 TO 150 YARDS = $3.80 PER YARDS WITH SHIPPING
150 TO 200 YARDS = $3 PER YARDS WITH SHIPPING
 
1 if you purchase 2 or more product then the first product shipping charge will be full and 2 product shipping charge will be half. 
 
2 if you purchase more then 5 product or $150 shopping then the shipping price will be free.
 
if you want it please write to us first.
 
EVERY RETURN BUYER WILL GET A GIFT ON EVERY PURCHASING SO PLEASE IT YOUR RIGHT AND WRITE TO US FOR IT.
To cater to the requirements of our customers, we always focus on their tastes and preferences according to the trends and today's fashion zone. We are trusted enterprise engaged in manufacturing, exporting and supplying the superb range of garments. Also, we can also offer customized products to our customers with ease and convenience at the most competitive prices. Our quality products find their utilization in:
Retail outlets
Shopping malls
Wholesalers
Offices
Restaurants/Hotels
Check out my other listings

View More...

we will dispatch your item after received full payments.Products are shipped to the registered address with eBay
International Buyer's :  Please Note:
  Import Duties , TeXes, And Charges Are Not Included In The Item Price Or Shipping Cost, These Charges Are The Buyer's Responsibility.
       
    Please Check With Your Country's Customs Office To Determine What These Additional Costs Will Be Prior To Bidding Or Buying.
   
    Guarantee:  Refund will be issued after receipt of the item in proper condition. No refund of shipping cost.
| | |
| --- | --- |
| UPS | 4 TO 6 WORKING DAYS |
| BOMBINO | 7 TO 12 WORKING DAYS |
| ICC WORLD | 7 TO 12 WORKING DAYS |
| INDIAN POST | 10 TO 15 WORKING DAYS |
| FEDEX | 4 TO 6 WORKING DAYS  |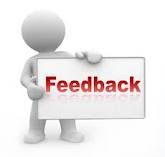 If you are not satisfied with your purchased items then contact with us first before leaving negative or neutral feedback or opening disputes.
             
          We believe in solving the issues. 
         
          A positive feedback represents our service, product quality and dedication towards customer's satisfaction. 
         
          Our future business depends on your satisfaction or positive feedback with "5-star rating".